WANTED:

Fun loving, well behaved, socialized, neutered/spade dogs
FOR:

Exercising, Frolicking, and ball fetching
AT:
Fort Funston and Stern Grove


---

I will continue to board current clients with big dogs but new clients must be 35lbs or less.


Information on foxtails are in the More column. Be careful and check your dogs thoroughly.

THE NEXT BEST PLACE TO HOME

When you're on vacation or have to go away, I take loving care of your pet. They have access to the whole house and front and back yards which are fully fenced in.


---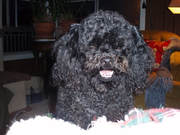 My mini poodle Josie died on Dec 22 2016 at 18yrs, 1 1/2 months. She was a sweet girl and a trooper. She was blind the last few years of her life. She never really adapted too well but knew how to ask for my help. I miss her but know she is much better now. RIP little girl.

---